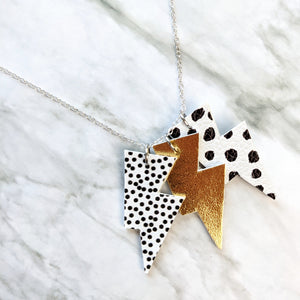 Disco Bolt Triple Bolt Pendant Necklace - Spot, Gold, Dalmatian

We couldn't launch a new range of necklaces without include a homage to our most loved lightning bolt earrings.
Hand cut vegan leatherette in 3 clashing colours.
Bolts are removable so you can choose how many to wear 3,2 or just the 1.
Chain length 46 cm*
Each bolt is 4.5cm long.
Why not match a pair of our earrings with your necklace too?
*Length of chains can be customised on request, drop us a message to discuss options.